This article gives an overview of the Prokeep Mobile App for iOS & Android users.
Prokeep App
The mobile app is a limited recreation of Prokeep that allows users to access the most used parts of Prokeep from their mobile devices, including:
Users log into their Prokeep account just by entering their email and password
The first-time login on the mobile app will be followed by a welcome tour to show the user how to use the app and prompt them to enable notifications
Users will be able to start threads with customers
View, reply to, and close existing open threads
Settings will be available in the app, allowing users to edit their information, notification settings, contact Prokeep Support, or sign out.
How to use the app:
To begin, please download the Prokeep app from the Apple App or Google Play Store.
Once downloaded, you will enter your email address & click 'Find My Team.'
Note: If you are associated with more than one account, you will be taken to a screen where you can select which account you want to access.
Enter your password and then click 'Sign In'
Once signed in, you will be taken to the 'Inbox/Open/Closed' screen.
When a new message comes into the Inbox, you can click on the message to read & claim.
Once claimed, you will respond just like in the platform. You can type out a message, include emojis, and also take or attach a photo.
Once the conversation is over, you can select the ellipses icon in the top right-hand corner to close the thread.
Alternatively, you can return to the 'Open' tab, swipe left on the conversation, and click 'Close.'
It will confirm that you want to close the thread. If yes, click 'Close.' If not, click 'Cancel.'

Need to transfer the thread to another user? Swipe left on the message in the 'Open' tab and click 'Transfer.' You can also use the ellipsis button to transfer.
Select the user you want to transfer the thread to & include a message if necessary. Then click 'Transfer.'
To access Settings, click on the three bars in the top left-hand corner. The available settings are
'My Account'
'Notifications'
'Support'
'Sign Out'
My Account:
Notifications:
Support: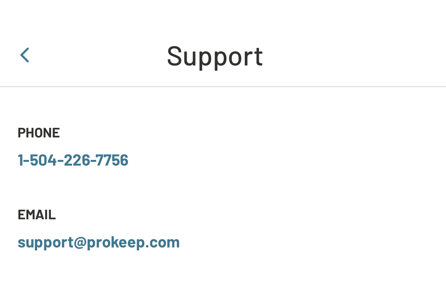 Notifications:
Make sure that notifications are allowed for the Prokeep app by following the below instructions:
iOS:
Settings -> Notifications -> Prokeep -> Allow Notifications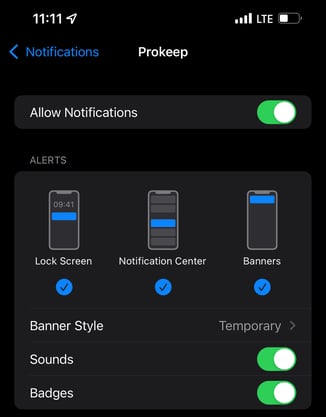 Android:
Settings -> Apps and Notifications -> See All Apps -> Prokeep -> Notifications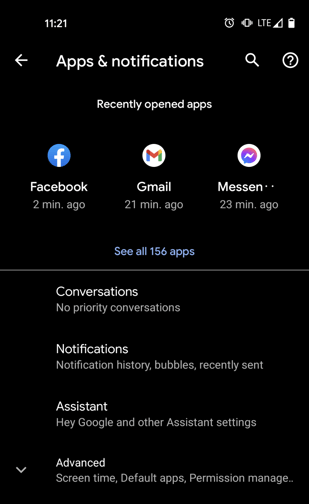 See the Prokeep Mobile app in action: